"Stanley Park Cinema was one of the most successful IKEA activations to date.....your Brand Team did a fantastic job, thank you!"
Jungle Media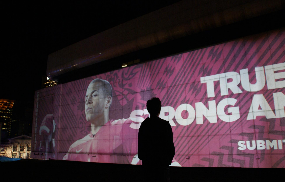 Nike/Facebook Olympic HD Projection
"I dont have a supplier in any other city who could do it like that....your work is one of a kind in Canada.." Nike Canada
"We were talking after the site meeting about how easy you make it for us" Intracorp Canada
DSC04773__640x428_28266.jpg
Brands - we find the perfect property to fit your creative message
Properties - we secure revenue through sponsorship and media sales
Innovative Digital Print in Vancouver
ACTIVATE MEDIA SOLUTIONS is a division of Activate Media Group Inc., a Canadian-owned media, sponsorship, and graphics production company.
Our unique approach to media consulting in Vancouver brings together government, private stakeholders, and numerous worldwide, regional, and local brands and their agencies, to activate innovative new media products and revenue share programs, each supported by our sponsorship, media sales, and EPIC production services.
Activate Media Solutions was a dominant supplier of building and vehicle wraps, site graphics and HD projection graphics to the Vancouver 2010 Winter Olympics. Campaign partners included some of Vancouver's most high profile Commercial Towers, International and National Olympic Sponsors and Federal, Provincial and Municipal Government Agencies. We continue to produce some of the most memorable activations on high profile properties and billboards.
In collaboration with advertising agencies and partner properties, our Brand Activations have received Gold, Silver, and Bronze Canadian, U.S., and Cannes Marketing Awards.